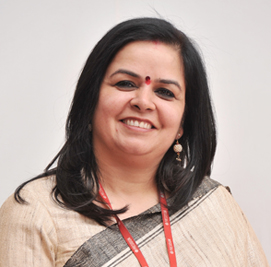 MS. ALKA SINGH
Principal
ABOUT THE PRINCIPAL
Firmly believing in Kautilya's saying - "Don't be afraid of failure and don't abandon it. People who work with Integrity are the happiest.", Ms. Alka Singh has a deep-rooted commitment to education. Serving as the esteemed School Principal of Presidium Gurgaon, she is at the helm of the institution, who is the overall in-charge of academic excellence and complete student development.

She has a vast experience of 26 years in the field of education and has served in few of the most prestigious educational institutions of the country.
A Gold Medalist in PG (Economics), she has a clear vision and attitude, which creates an open environment where parents, teachers and students feel a part of the school community. She has always guided her team of brilliant teachers to provide the students with cutting edge technology and a strong foundation in life skills. Ms. Alka Singh is an effective and excellent listener, packed with problem solving skills at the core. A true visionary, she is well-versed with the fact that education is ever-evolving.
The will to win, the desire to succeed and the urge to reach full potential - these are the keys that will unlock the doors of personal excellence.

To achieve great heights, to reach the pinnacle of success we need to be inspired and motivated. At Presidium, we draw our inspiration from the world's greatest achievers and thinkers like Mahatma Gandhi, Mother Teresa and Steve Jobs. This is a school for the 'dreamers of tomorrow' where every test is a lesson for life, where the child is taught to be what he wants and aspires to be.

The twin-ideals of quality and commitment have enabled us to carve a niche for ourselves. Our two-fold mission and quest for excellence is to provide quality education and character development to our students. With a vibrant philosophy to create the 'leaders of tomorrow', we educate the youth to take their productive place and responsibilities as confident decision-makers in their future endeavours.

The school encourages students to participate in a variety of co-curricular activities from dance, art, theatre to a variety of sports, social-work and environment conservation. This is judiciously balanced with rigorous scholastic programmes.

An exceptional quality of Presidium is that of the Chairperson, Mrs Sudha Gupta, who takes personal interest in the achievements of the students and individually acknowledges their academic excellence and co-scholastic endeavours.

We have a caring community of teachers who, with their perpetual energy and innovative & humanitarian approach, strive for holistic development of students. The child-centric pedagogy, customised study material and experiential project-based learning helps to upgrade, not only the emotional growth of the child, but his intellectual growth and academic competence as well. The management and staff believe that every child is unique and students are a priority. This wonderful amalgamation of competent teachers, state-of-the-art infrastructure and experienced & efficient administrative team, truly make this a great institution.

In our quest for excellence, we will continue to mould and sculpt students' minds, enrich their souls and ignite the spark of lifelong learning, enabling them to imbibe strong values.

MS. ALKA SINGH
Principal